Village Capital NL continues as Investment Ready Program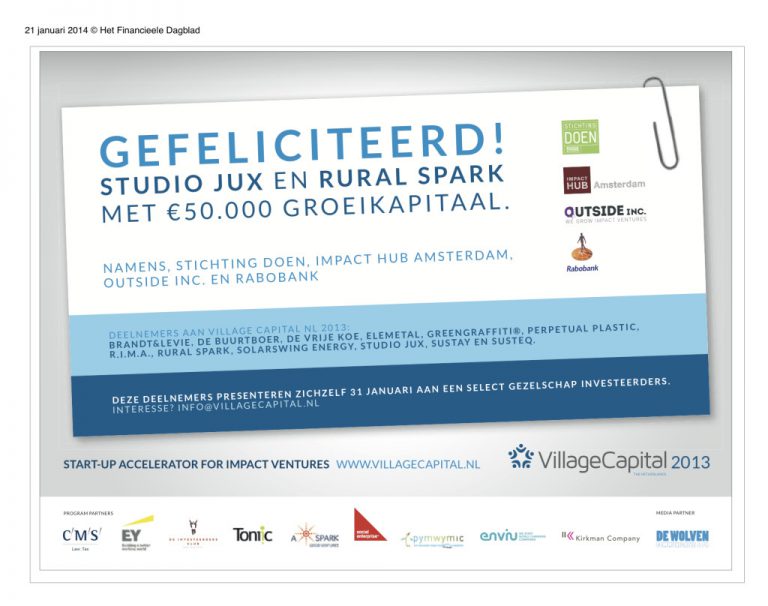 Last year, we started as Village Capital NL. This year we are continuing under a new, local name, Investment Ready Program, but based on the same unique Village Capital peer-ranking model.
In 2013 we successfully organised the first Village Capital program in The Netherlands together with founding partners The DOEN Foundation, Outside Inc. and Village Capital (USA). The program of Village Capital is based on the idea of ​​peer selection, allowing entrepreneurs to learn from each other. Participants also assess each other to jointly decide which two entrepreneurs win a guaranteed investment of 50,000 euros.
In October 2013 we received 75 applications, invited 25 to our selection event and selected a cohort of 12 participants. During the program the entrepreneurs assisted each other as well as received guidance from leading entrepreneurs such as Alexander Ribbink (Prime Ventures , TomTom) and James Veenhoff (Fronteer Strategy , Amsterdam International Fashion Week). Participants' projects focus on topics such as sustainable food chains, clean energy, ethical fashion, innovative forms of recycling and housing and better drinking water. Finally, all twelve participants presented to investors on 31 January 2014.
The 12 participants in the Village Capital program choose Studio JUX and Rural Spark as the winners, both got access to 50.000 euro investment.
The Investment Ready Program 2014 is offered by The DOEN Foundation, Hivos and Impact Hub Amsterdam and powered by Village Capital.  We look forward to it!