Two winners in the Investment Ready Program 2018!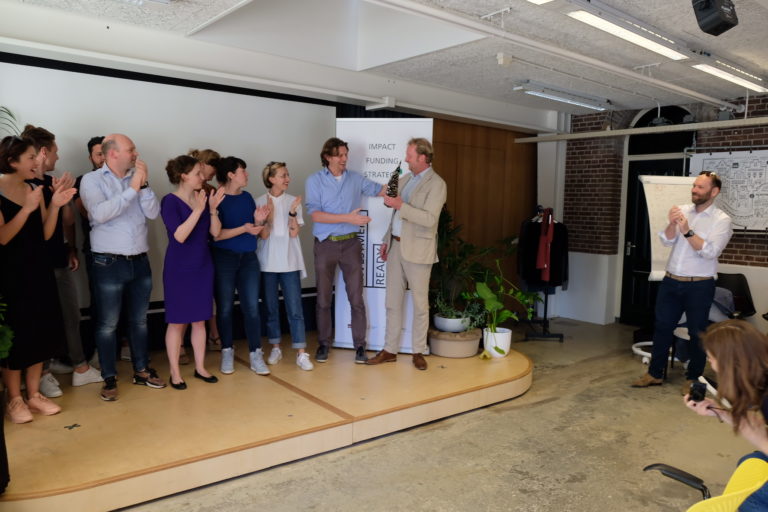 CoVadem and Nerdalize were chosen by the other nine participants as winners of our fifth Investment Ready accelerator for sustainable startups looking for funding to match their growth ambitions. Both startups will receive extra support from partners ING, De Brauw Blackstone Westbroek and BCG, as well as spots on ING's informal investing platform, LIFT.
"It's so valuable to regularly sit down with entrepreneurs going through the same process as our company. Investment Ready pushes you to go the extra mile and question your assumptions", says Chris Mooiweer of Nerdalize, a company that builds large data centres distributed the servers over different households. The residents can use the residual heat generated by the servers to warm up their homes while saving 50 per cent on their energy bills. Nerdalize thus contributes to scaling computational power while reducing GHG emissions and providing affordable clean energy.
"The program sharpened our business case and ability to make a positive impact on the shipping industry and our climate. I'm very grateful for this opportunity", adds Meeuwis van Wirdum of CoVadem, whose big data tool offers smart river monitoring – such as water depth info – to inland shipping providers. By doing so, it helps these providers optimise their load, boost their revenue and decrease their GHG emissions.
"We are so proud of all the entrepreneurs participating in the 2018 edition of the Investment Ready Program. We believe social enterprises can really make a difference. And we want to encourage entrepreneurs who are willing to take risks and pursue their ambition to grow", says Kirsten Ottens, Manager Corporate Social Responsibility at ING Netherlands and Director of the ING Netherlands Fund – the main partner of Investment Ready.
At our the Demo Day on 25 May, all 11 entrepreneurs will pitch their funding plans to our curated network of impact investors, banks and funds. Are you an investor keen to attend? Contact Manon Klein. 
Want to find the right investor, too? Learn to think like one! Apply before for 4 Dec 2018 for the next edition of Investment Ready, which kicks off in January 2019.
More about the Investment Ready Program
The Investment Ready Program, whose main partner is ING Netherlands Fund, is a five-month accelerator for scalable solutions to global sustainability challenges.
It includes 12 training days during which we guide entrepreneurs through a systematic review of their business model, strategy and team. We do this to help them craft validated plans for attracting the right investment – funding that matches their growth ambitions.
What makes our Investment Ready Program so effective
During Investment Ready the entrepreneurs examine their own companies through a potential investor's lens. Then, they get to pitch their funding proposals to our network of purpose-driven investors and funds at the Demo Day on 25 May 2018. And this works – Investment Ready alumni have collectively raised more than 8,5 million euro!
In addition, the participants crown the program's winner by ranking each other on more than 20 investment criteria. This peer-reviewing model generates an intensive learning process. And thanks to this insider knowledge, many entrepreneurs have started collaborating with their Investment Ready peers, such as BinBang and MgAubel.
Who supports the Investment Ready entrepreneurs 
The Investment Ready participants are coached by many experts, seasoned entrepreneurs and inspiring mentors. In addition, they benefit from the legal expertise of De Brauw Blackstone Westbroek and the financial knowledge of ING. The Boston Consulting Group helps with strategic development and market analysis. And David Beckett from Pitch Professionals ensures these ambitious entrepreneurs are pitch perfect on Demo Day.