Meet the Cohort: Investment Ready Program 2019/2020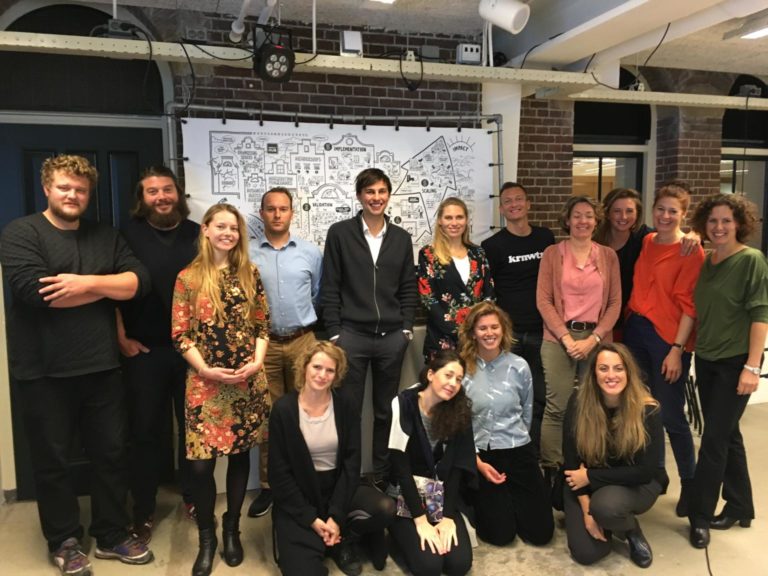 Meet the Cohort: Investment Ready Program
The Investment Ready Program, whose main partner is ING Netherlands Fund, is our five-month accelerator for sustainable entrepreneurs with scalable solutions to global problems. We guide the cohort of selected participants through a systematic review of their business strategy, model and team, before crafting a validated growth and investment plan. We do this to help them craft validated plans for attracting the right investment – funding that matches their growth ambitions. Find out more about the eight participants of this year's edition!
New Industrial Order enables 3D knitwear on demand for the fashion industry. 3D knitting machines are able to construct entire garments without cutting and sewing. N.I.O. creates customized knitting instructions for 3D knitting machines. This Knitcode is based on real people's body measurements and preferences. The result: ultra-personalized knitted garments for unique customers. Better clothes, less waste, more happiness!
DIYS Soap creates natural and organic skincare products through which you can learn how to do it yourself. Their goal is to educate people on what they are putting on to their skins and to save a lot of packaging that would usually be thrown away. Customers of their DIYS Soap store in Amsterdam can fill their jars with ingredients and learn how to make personalized skincare in one of their workshops.
Charlie + Mary designs and creates timeless clothing collections, made for longevity and adaptability. Charlie + Mary brings back the love for fashion and respect for craftsmanship, sharing interesting details of every piece in the collection.
ZSILT develop and sell unique, eco-friendly beach gear that is made to last year after year. Their beach toys are made from 100% plastic waste – mostly food packaging – sourced from Dutch households and produced in the Netherlands. Because of their innovative production process, ZSILT saves energy, fossil oils, plastic waste and transport over our oceans.
Vet & Lazy is a craft beer brewery that produces out-of-the-ordinary yet sustainably-made beer. For their craft beer specials, they try to work with residual ingredient streams such as mangoes that aren't looking good enough for the supermarket. Next to the circular usage of ingredients, they also have the ambition to enhance the sustainability of their whole supply chain. They are currently investigating the use of rainwater as a base for brewing.
Waste4ME has developed a mobile way of waste treatment that handles waste streams on location and turns them into valuable products, such as gas and oil. The core of Waste4ME's proposition is a pyrolysis unit called WER, which designed for chemical recycling and waste-to-energy solutions. Based on well-established technology, strong partnerships and the rich expertise of their team, WER is the state-of-the-art of waste treatment. Waste4ME tailors its solution to governments and businesses across a wide range of industries.
KRNWTR/WeTapWater has created sustainable alternatives to single-use bottled beverages by designing products that allow people to make the most of their tap water and say no to single-use. The KRNWTR water dispensers filter, cool and carbonize tap water. The dispensers allow companies, hotels, restaurants, cafes and schools to serve tap water and home-bottled natural syrups.
The Baby Exchangerie offers high-quality baby products as a service. Leasing the products saves parents money, hassle and storage. Moreover, it contributes to a more sustainable world, because at least 50% fewer products are needed. Parents can order all newborn baby necessities at the Baby Exchangerie. They deliver them to their house, and when the baby doesn't need the products anymore, Baby Exchangerie picks them up and makes them ready to bring them to the next baby.