Look at your venture through the eyes of an investor – Marten Susebeek

Six months after joining the Investment Ready Program, Marten Susebeek gives us an update on where he's at with Susteq. Susteq develops prepaid water services for rural and urban communities. People pay a small amount for their water access, so that water-points can be maintained in a sustainable way.
We meet with Marten at Impact Hub Amsterdam shortly after the Investment Ready Program 2014 kick-off, where he was present to share his experience with entrepreneurs interesteded to participate this year.
Marten tells us how the collaborative atmosphere between entrepreneurs in the program worked well for him. "As an entrepreneur you feel lonely sometimes. The program's design made all entrepreneurs work together, you got completely immersed in the process. There was a spirit of collaboration and healthy criticism."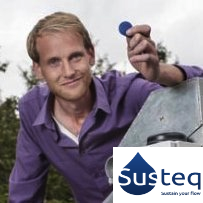 Marten Susebeek, Susteq: "The program made me look at my venture through the eyes of an investor. It prepared me immensely for the conversations and negotiations with investors", a phase he is in the middle of right now.
Investment update:
"We are currently in a dealmaking stage with one investor. We are looking for 350.000 Euro investment but the final amount is yet to be decided."
The Investment Ready Program is growing their network of impact investors with a sustainability profile each year. Even so, Marten found his investor through one of their customers. "Though the VilCap program we met two new potential customers", he adds.
Enterprise update:
"We expect to double our turnover this year." Susteq expects a turnover of 150.000 Euro for 2014, which would mean a doubling of the 2013 turnover.
Next to that Susteq made a big step forward with their team. At the time of joining the Investment Ready Program, Marten was working with three freelancers. During the program they joined the Susteq team and the four of them will soon be working as part of Susteq BV. "This was one of the realisations during the program – the value of having a team."
Follow this blog if you are interested in the learning process of the entrepreneurs and the progress they make during and after the Investment Ready Program.