The Investment Ready Program is live!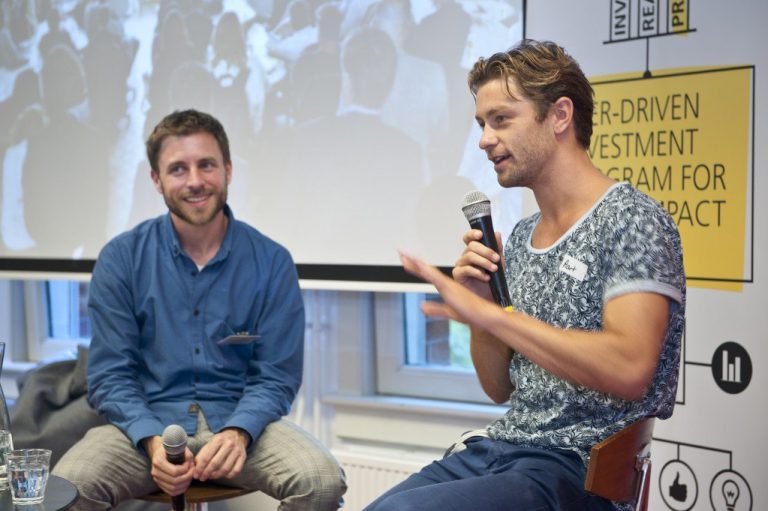 Last Thursday July 17th, we officially launched the Investment Ready Program at the Impact Hub Amsterdam. We had a full house. With an interested crowd of mostly entrepreneurs, as well as investors and partners, we explored what it takes to become investment ready.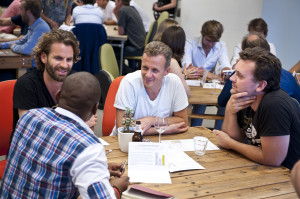 On stage we interviewed Aart van Veller – Vandebron – and Marcel Heist – Rural Spark about their investment journey? How did that go? And what did you learn? They both shared some great stories and key lessons learnt.
Aart told how he first pitched with his co-founders to an investor that they really wanted. Even though they knew everyone advises to practice a couple of pitches first, they did anyways because of the opportunity. And they got 'fried'. Along the way the learnt to be more strategic and managed to get Vandebron funded, and launched a product that could potentially become "the Airbnb for renewable energy".
Marcel told us how their first investment deal took  no less than 12 months of due diligence. Opposed to that they learnt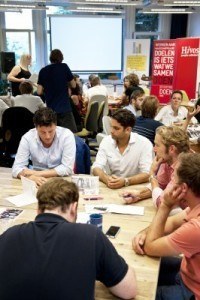 during the Investment Ready Program that you can actually be critical and selective about the investors you want to work with. "We joined the Investment Ready Program because we were newbees to the investment world; we learnt a lot, got great PR, and a valuable network". Rural Spark (last year's winner) almost rounded up their second investment round and last May started rolling out their pre-paid energy router in India; the way rural villagers become local energy suppliers.
Thomas Vaassen (program director) explained how the Investment Ready Program is different to other accelerators. "It is really about the entrepreneurs, not about the show". What makes the program unique is the peer reviewing, which learns the entrepreneurs to look through the eyes of an investor. This way you really advance the core of your business during the program and get ready for investment.
Closing of the informative part, we quickly got to know everyone at our table by discussing "what can the Investment Ready Program mean for you?". A conversation that was continued  during drinks.
Are you interested in participating? Please contact us and we get in touch with you personally.