Introducing our program scouts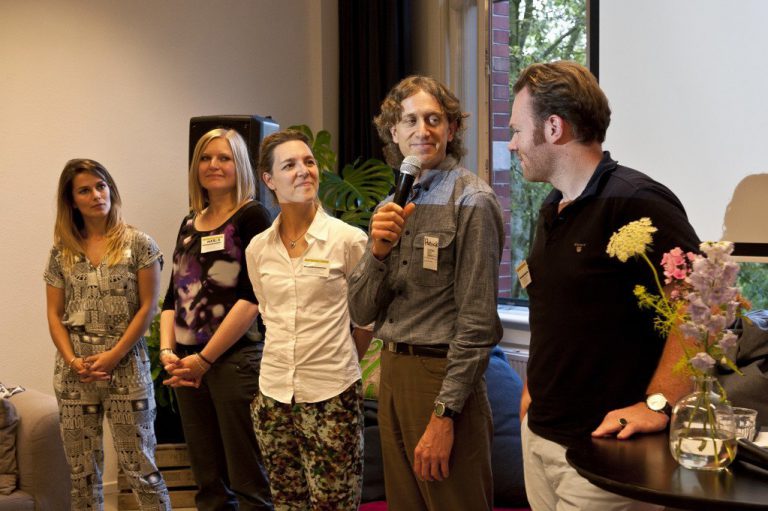 For this program we are scouting the top 10-14 sustainable start-ups in the Netherlands that have the ambition to scale their ventures and their impact. We estimate there are only some 300 enterprises matching our criteria. So how are we going to find them?
Next to our recruitment lead Frederic Marcillaud, we have a strong and diverse team of three program scouts on board. We asked Maria Kharitonova, Patrick Malone and Chris Schuhman to give us some insight into their work and motivation to join this program.
Maria, what is your strategy, how will you find these green impact entrepreneurs?
We are a diverse team, so we use our collective experience and networks, and a lot of creativity. There's Patrick, the Ethical Investor from the US; Chris who researched entrepreneurs ecosystem in the Netherlands;  Frederic who brings in a huge network to the table; and myself, bringing the experience with a similar program in India. Besides that we use channel partners such as Impact Funds, investors, crowdfunding platforms, prominent NGOs, universities, incubator and accelerator networks to enrich our applicants pipeline. We use digital media focused on entrepreneurship and innovation to discover new names and we are planning to organise a number of events in various locations throughout The Netherlands together with our partners to inform entrepreneurs. And last but not least, it is great to be able to work with recommendations from last year's participants as ambassadors.
Chris, what is the unique selling point of the program? 
What I learnt from researching this sector is that attracting finance for the type of companies we target is difficult. Banks and investors are less willing to jump into these companies because the new business models are less proven then traditional, and the expected returns might be lower. So one of the unique selling points of this program for me is the focus on supporting impact entrepreneurs with attracting investment and to grow. This program will solve a lot of the issues impact entrepreneurs face while executing their dreams.
Patrick, why exchange Santa Fe for Amsterdam for 3 months?
Patrick here.  American Ethical Investor.  Why on earth would I close down my life in sunny Santa Fe, New Mexico, and jump on a plane to rainy Amsterdam?!  Strengthen my calf muscles? Save money on dry skin lotion?  I believe changes like these keep us vibrant, young and happy. I hear there are hidden gifts in disorientation.  I also really value getting a European perspective on social and environmental business.  What am I missing out on being an American?  What opportunities and ways of thinking are in this culture?  You all in Europe have been doing this impact stuff in different ways(maybe under different names) for a while now.  So I'm diving in:  exploring the Circle Economy at De Ceuvel, meeting with passionate entrepreneurs solving global problems and biking more than ever.  I know what a great network and working space these global Hubs are and I want to work with a diverse team.  I'm already experiencing this work adventure as a great way to grow, adapt and get a different mirror of myself.  I even "feel like a local" having attended the Zwarte Cross for a day to see comedic political branding transportation sector innovation in the form of the Plofkipmobile!  So I worked out a deal to bring some summer sun with me. What is your next change about?