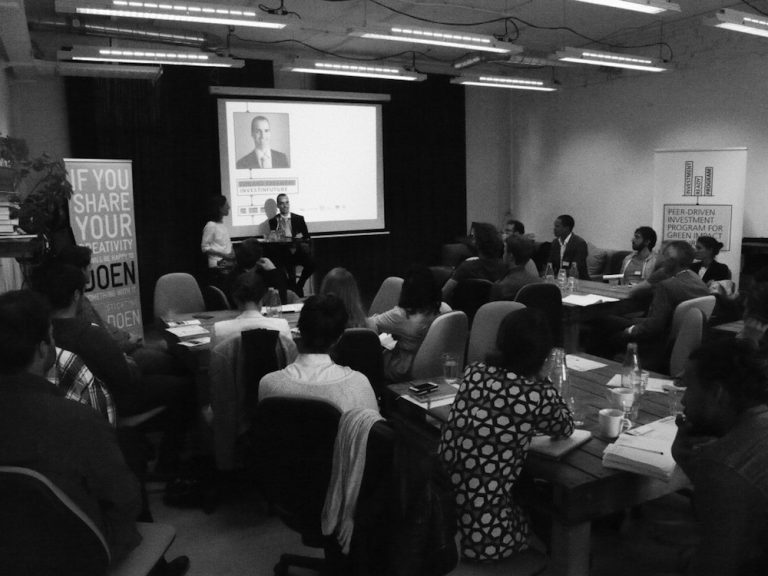 Today we launched the 2015 edition of the Investment Ready Program at Impact Hub Amsterdam. With a crowd of interested entrepreneurs, partners and investors, we explored what it takes to become investment ready. Giving insight in to the content and value of the program along the way. And getting insight into what the program can mean for the people in the room.
We started by interviewing impact investor Edgard Creemers, CEO of InvestInFuture. InvestInFuture invests in innovative, sustainable entrepreneurs with a special focus on youth. What is key to him when he enters into conversation with an entrepreneur? "When I'm interested in a venture I want to know about their 1) product-market combination, 2) team, and 3) give/get for the entrepreneur and the investor."  About the latter Edgard advises the entrepreneurs in the room:
"Be realistic in what you ask, but don't give it all away at once, you need to be prepared for more investment rounds ".
As InvestInFuture, they are of the opinion that the entrepreneur needs to keep majority of shares in all situations. According to Edgard, guiding the entrepreneurs in their journey to seek investment is a unique aspect of the Investment Ready Program and valuable for both entrepreneurs and investors involved.
After getting the investor perspective, who better to ask about the progam than a former participant?  So we interviewed Joost de Kluijver, founder of Closing the Loop and 2014 participant, why he participated and how he is doing 4 months after the demo day. An important reasons for him was definitely to get loose from his day to day operations to work on the long term strategy of his venture. "As an entrepreneur you live in a 'bubble' and the program provided a soundboard for me in an important phase in which I had just changed from not-for-profit to a for profit company (BV)."
"The peer ranking mechanism results in painfully honest, but very constructive criticism and support from your peers."
After the demo day in February, Joost got featured in a Tegenlicht episode about e-waste and urban mining, which helped him building the case for corporate clients such as Tele2, with which he recently closed a deal. Also, via Investment Ready, he got the opportunity to pitch at the PYMWIMIC Impact Days. "The Investment Ready Program thoroughly prepared me for the conversations with these investors.
So who are we looking for?
In the next three months we will be scouting for scalable 'greentech' ventures with a special interest in enterprises that tackle sustainability issues in emerging economies. Together with our partner Professional Rebel we will be traveling from Amsterdam to Eindhoven and from Arnhem to Delft to find the entrepreneurs that have the best fit with our program.
You are a purpose-driven entrepreneur, working on tackling sustainability issues. We have a special interest in enterprises that tackle sustainability issues in emerging economies
You have proof-of-concept (i.e., revenue generating, revenue testing)
You are seeking investment
Your venture is legally incorporated in The Netherlands
You are building a scalable product, technology or solution in one of the following fields

Energy & Mobility
Supply Chains & Logistics
New materials & Waste
Agriculture, Water & Food
Applications are open until 20 September. Start here.