12 social Enterprises start the 5th edition of the Investment Ready Program.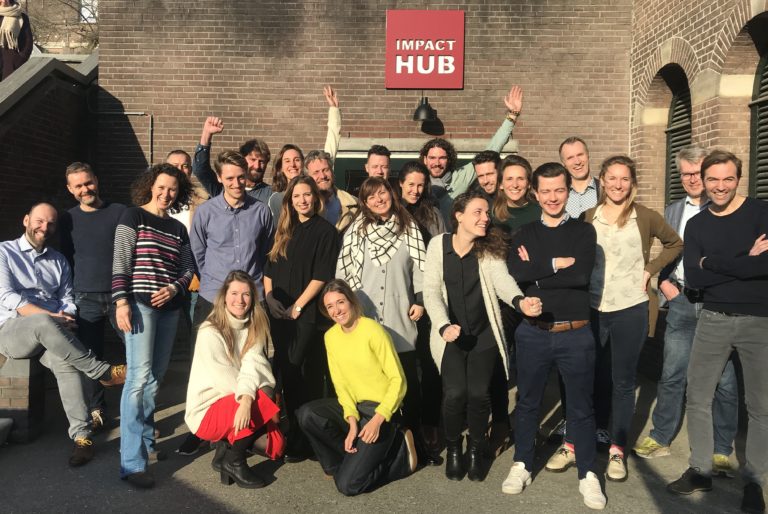 During our Investment Ready Program, we support sustainable and circular entrepreneurs with scalable solutions to global challenges. Over the course of five months, the twelve selected startups work on their strategy, financial model and team with the aim to develop a strong funding plan and grow their business.
From waste-free vegan fast food to solar panel facades, say hello to our 2019 Investment Ready participants:
CocoPallet | By producing 100% biobased export pallets from coconut husks, CocoPallet reduces the amount of coconut waste burned (annually 100.000 tonnes) and avoid the deforestation of roughly 500.000 trees each year. The pallets, which can replace wooden pallets on a large scale, are affordable, fire retardant, and strong yet light.
CONCR3DE | The company has developed a new type of 3D printer to easily, affordably and quickly print objects in stone. These printers provide architects, designers and makers with endless possibilities to create remarkable shapes for a range of purposes, from restoration to sculptures to architecture.
Corekees | Becoming climate neutral has never been easier, thanks to Corekees' CO2-absorbing, fuel-producing Pongiama trees. The tree's nuts, harvested yearly, can be refined to green and renewable diesel, while the residue can be used as cattle feed. Next to this, anyone who buys a tree will reap yearly profits from selling the oil.
Hrbs | This subscription service delivers locally produced herbs throughout the year, ready to be harvested and easy to maintain! They want to enable everyone to use fresh herbs on a long-term basis, effortlessly integrate green into their environment, and avoid unnecessary waste.
Jack Bean | 100% plant-based fast food that's healthy and affordable! Jack Bean's fast cuisine restaurants inspire people to eat more plant-based foods and reduce their consumption of animal proteins. Their mission is to build a sustainable brand at the forefront of the transition to a more plant-based diet in Western Europe!
LABEL/BREED | This initiative facilitates the collaboration of designers and manufacturers on the production of sustainable and innovative interior design pieces with a unique story. It's a joint search for technically viable and economically feasible designs that can validate the entire supply chain: from waste streams to unused technical capacity.
MAKUS | Induction plates? Let's make them hot! MAKUS decorates induction plates with any design imaginable, from geometric patterns to a marble look. By making induction plates more visually attractive, MAKUS invites consumers to switch to gas-free cooking – without having to compromise on style.
SOOP | SOOP is making circular soap the new normal. Their secret ingredients? Orange peels and coffee grounds! Millions of kilos of these organic byproducts are wasted each year. SOOP's goal is to give value to these peels and grounds, as well as a visible role in the soap's natural scrub, colour and scent.
Studio Wae (pictured) | Studio Wae's goal is to make an impact on large waste streams with scalable products. They produce decorative tiles and carpets for outdoor and indoor spaces. Their Right Wae collection of tiles are made from circular concrete using urban mining waste streams, while their modular Circular Carpets give a second life to offices' old carpet tiles and Interface's production waste.
Studio Pim Dekkers | Studio Pim Dekkers eliminates the use of new material by designing and producing circular furniture from organic waste streams. Each product is made to last for multiple lifecycles, either through the re-use of its parts or by recycling the raw materials and fibres.
TWENTY Products | Most household and cosmetic products consist of around 80% water. This means that four of the five trucks that transport such products are essentially only carrying water! TWENTY offers consumers just the 20%: they don't sell water, but capsules. Just put the capsule in a reusable bottle and add the 80% water yourself!
Wallvision | The company's decorative solar panels are attached to street-facing facades, producing solar energy and decorating the building at the same time! Wallvision provide a complete kit for building these high-yield architectural solar panel walls, including the necessary suspension systems, electronics, cabling, and thermal insulation.